Does your client or patient need a ride to the doctor? Maybe we can help!
The Volunteer Chore Program helps seniors and adults with disabilities get access to medical appointments. Our volunteers, when available, can take your client to essential medical appointments.
Who qualifies for this service?
Clients must be 60 or older OR be on SSDI

Clients must not have access to transportation from friends or family members on a regular basis

Please consider Medicaid Transportation first (call NWRC (360) 738-4554 for more information)
Please note:
Rides are not guaranteed

We are only assisting with essential medical appointments at this time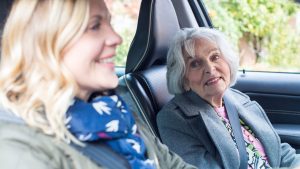 How to get medical transportation for your clients and patients through the Chore Program:
Chore operates on a referral basis. Case workers and medical staff are able to refer clients and patients to Chore.

Client must be a senior or adult with a disability and low income.

Fill out and submit referral form

HERE.

Our Chore specialist will contact you to confirm and enroll client.

Chore posts your client's need to our volunteers.

Volunteer offers to drive client and the two are connected.
Are you a senior or adult on disability seeking medical transportation?
Reach out to your doctor or case worker and ask them to refer you to the Volunteer Chore Program

They can access the referral form and submit it online HERE.