Maple Alley Inn
Maple Alley Inn serves healthy and sustaining meals in a comfortable and welcoming environment to Whatcom County residents experiencing hunger. Every week we serve breakfast on Tuesday morning and lunch on Wednesday and Thursday, focusing on nutritious high quality foods. A Maple Alley Inn community garden, grows organic vegetables that are a core part of the prepared meals. In 2015, Maple Alley Inn served 19,622 meals to 1,675 unduplicated guest, an 18% increase from 2014.
More Than Just a Meal
It is also a place for clients to connect with social service providers in order to be referred to other beneficial services and receive education around topics of health and nutrition.
It is also a community of low-income families, homeless veterans, isolated seniors, individuals in recovery, etc. coming together to dine in dignity, share stories and offer companionship.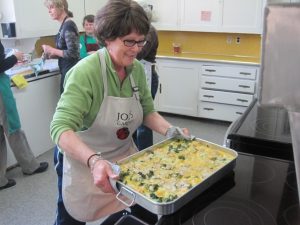 Finally, Maple Alley Inn is a community of 47 hard-working, dedicated kitchen volunteers and 15 garden volunteers that come together around their common desire to make their community a better place to live and increase the quality of life of its most vulnerable citizens.
Maple Alley Inn is so much more than a meal program, it's a community nourishing itself!
This is what our clients have to say:
I make my week around these meals. I know that I can eat a solid meal on Tuesday, Wednesday and Thursday. Maple Alley is like my home kitchen. This breakfast is worth getting up and walking over here. – MAI client
This is the best time of the week. It's time to talk together, to eat good food, to go into the world, fortified with friendship and food. – MAI client
To volunteer with Maple Alley Inn, please fill out a volunteer registration form on the Opportunity Council website, found here.