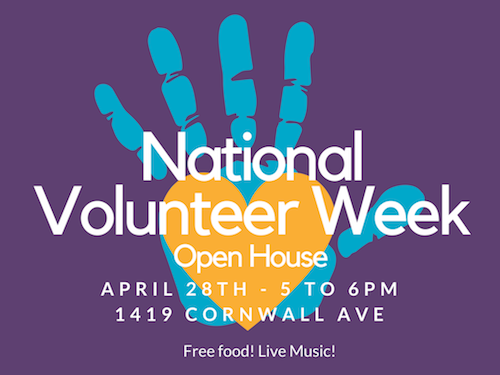 Volunteers help make the world go around!
Celebrate National Volunteer Week with these activities! Join us for 8 days of celebrating the importance of volunteering in our community. Get involved in special volunteer opportunities or attend a volunteer social event
Wednesday, April 26th – Community Engagement Forum – "Building Resilience through Skill-Sharing and Volunteering"
When: 3:30-4:45 pm
Where: Pavilion in Maritime Heritage Park (514 W Holly St.)
In honor of National Volunteer Week, join us for a panel discussion on the importance of skill-sharing and volunteering to creating a resilient community in Whatcom County. This forum is part of the Community Engagement Fellows program, which aims to build stronger campus-community collaborations in the region, and is being co-hosted by the Volunteer Center of Whatcom County and WWU's Center for Service-Learning. Panelists will include Mary Elliot Keane from The Foundry Makerspace, David MacLeod from Transition Whatcom, Shannon Maris of the Chuckanut Foundation, and several other community organizations who thrive on volunteer participation.
Friday, April 28th – National Volunteer Week Service Day
Join the Volunteer Center and the Teaching and Learning Academy at WWU for a co-hosted day of service! Community members and Western students and faculty will work side by side on service projects. For more information about participating contact Summer Starr (summer_starr@oppco.org, 360-734-5121 Ext 212)
Some of the sites you can volunteer with include:
Kitchen Items Drive for House 2 Home
12pm to 4pm inside the Public Market 1530 Cornwall Ave
Bring your gently used dishes, utensils, pots, pans and small appliances (microwaves, blenders etc). Basically anything but the kitchen sink! We will be delivering them to people transitioning from homelessness. Please visit the TLA website To sign up

Chores around the house!
The Volunteer Chore Program will be hosting small groups (5-6 people) to do small chores around the house of seniors and individuals with disabilities. This may include clean up projects or yard work. Please visit the TLA website To sign up
Lend a Helping Hand: Harriet Spanel Park in the York Neighborhood
10am to 12pm, Harriet Spanel Park
Help us weed and mulch at this great park. No prior experience needed and gloves and tools will be provided. Come and join the fun, and meet other volunteers. Please visit the TLA website To sign up

Comfort Kids Project: The Bellingham Sock Monkey Project
11am to 1pm, Location: Edens Hall, 1st floor Administrative Offices #110 (side entrance to Edens Hall or entrance facing Old Main lawn)
This is a drop-in or stay as long as you like event where volunteers will be building sock animals for children in need. Each sock animal is donated to Skookum Kids with a backpack to hold their pajamas. All tools for stuffing, sewing, or embroidering will be provided.
Care to make a donation to this cause? We are always looking for red heel socks, stuffing, or preemie sized clothing. Contact June Fraser Thistle (360.255.3853) for more information.  Please visit the TLA website To sign up
Raise awareness for local food and farms!
Help Sustainable Connections distribute the Whatcom Food & Farm Finder, the guide to eating local in Whatcom county.
Time commitment: 4-8 hours total, timing is very flexible
When: Between now and the end of April
Where: we have 3 routes remaining: Lynden, Lummi Island, and Baker Hwy/Acme
Contact: Becca Weathers, BeccaT@sustainableconnections.org,  (360) 647 7093 x106 Learn more
Help with garden clean up at Sean Humphrey House
Sean Humphrey House is looking for individuals, perhaps groups of individuals, to help with regular upkeep and yard maintenance. This could range from pulling those pesky weeds, trimming bushes, mowing, edging and cleaning up trash.  We can supply the lawn mower and some other gardening tools.  If there is a group in need of a project during National Volunteer Week, this would be a perfect opportunity for you!  After this wet winter, our yard could really use some TLC! Learn more
Friday April 28th – Celebrate Volunteer Week with Food and Live music!
When: Friday April 28th from 5-6pm
Where: 1419 Cornwall Ave
The Volunteer Center of Whatcom County is hosting a "Thank you" open house for all the volunteers who make this community great! Join us for food and live music and see where we are located in the heart of downtown. RSVP at frontdesk@whatcomvolunteer.org or by calling 360-734-3055